I was wrong when I thought that the schedule in Budapest was busy and exhausting: the Norwegian partner put the pedal to the metal, and increased the pace.
On Friday we said goodbye thinking everybody would rest up until our next meeting on Monday, but it just doesn't work that way: I know that everyone was thinking about their projects the whole time, and that's normal. Getting to Oslo from Budapest takes about two and a half hours via plane, but we could only get to our first base in the small city of Moss (population 30 000) in Østfold Province after an hour and half bus ride.
I believe in first impressions, and I am immediately fascinated by the well-kept, though empty streets, the tidy, though quiet houses. Flash forward: the busy schedule still allows me to take strolls through town, but I seldom meet anyone, regardless of what time of day I go out. Strange, but understandable phenomenon: most people go to work in Oslo during the day, a trip only 45 minutes by train.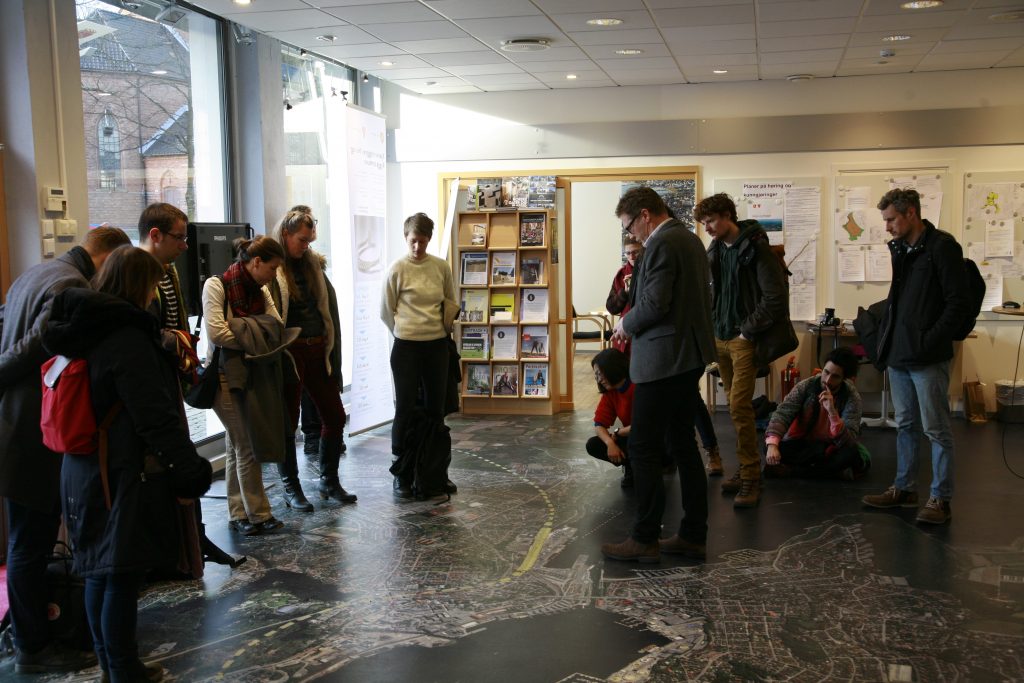 A trip that will shorten to 30 minutes in the foreseeable future – this is something I learn at our first location in Moss, at Bylab Moss, where engineers are working on urban planning in the medium- and long-term. Just off the street, in a roomy, comfortable and inviting space, the people working here all seem to be open to constructive and critical comments. Terje Petterson is an engineer – also a presenter at the symposium planned the next day – who now tells us about the railway development project that will radically change life in Moss in the next few years and decades. Not everyone is happy about this: according to a local paper's web edition people living here are not overly happy about the plans that will fundamentally reshape their lives, later on for the better.
We continue on foot to the easily accessible Moss Havn, the famous port city which has an important role to play in Norwegian sea trade, and which is also an area inaccessible to everyday civilians due to certain international regulations. But we have special permission, and I am surprised to see how at home the Norwegian representatives of Scenekunst Østfold seem to feel among the cranes and shipping containers, the cable reels and other industrial by-products not easily recognizable to outsiders. But this is no surprise really, because they have organized many different artistic events here: they only showed us short excerpts, but a certain concert held in an arena of shipping containers really seemed interesting to me…

After a short lunch we enter the premises of the Peterson paper factory that was permanently shut in 2012, and which will be gone without a trace in a couple of years because there are plans to erect a stylish residential quarter in its place on the banks of a fjord. Pop music concerts have been held here, Scenekunst Østfold organized a performing arts program, and there was a soccer field also planned in one of the manufacturing halls, but now all is desolate and empty around the old factory. If one has managed to stay immune to the beauty of postindustrial areas, seeing this place will most certainly make them fall in love with the enormous, echoing spaces, corridors hidden in eternal twilight, industrial machines, their original functions long-forgotten, now gently rusting away, or the wrought iron pillars, all from an age when such objects had both pragmatic and aesthetic elements included in their design.

Near the end of the day we still have some time to check out the Moss Museum of Town and Industry which could be a model of modern museum planning, both interactive and informative, despite being modest in size. The curators attempted the impossible, but succeeded: the exhibition was designed for playful children and adults, it is thought-provoking, inspires you, and always keeps you moving.
Text by Tamás Jászay
Translated by Dávid Cseh